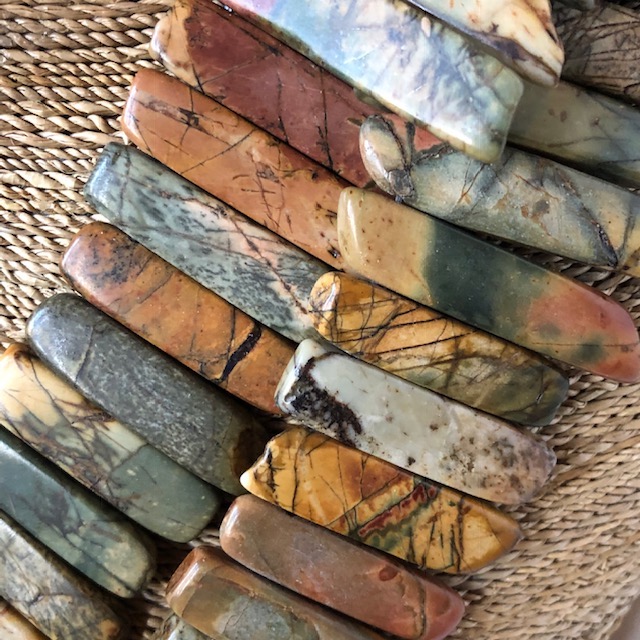 Picasso stone is one of my new favorite things. Every bead or pendant or cabochon I see made with this stone looks like a little piece of art, and I can't resist it! The earthy combination of greens and reds and oranges look like desert Southwest landscapes, but in miniatures that you can hold in your hand.  
This stone is sometimes referred to as Picasso Jasper, because it's color combination looks so jasper-ish. It's really a type of marble, which is a metamorphosed Limestone. (Jasper, on the other hand, is a Chalcedony, which is based on very fine Silica particles. Jasper is a 6.5-7 on the Moh's Scale of Harness. I always think of quartz or glass when I hear "Silica," whereas Limestone is that softer stuff that fell apart when I tried to use it to make a dry rock wall in my garden. Limestone is only a 3 on the Moh's Scale, and Marble is a 4.) 
Why do I care about hardness? It helps me decide how to use the stones so that they don't break or get too scratched up. At a 4 on the hardness scale, Picasso Stone is a  little bit fragile, so it would make a better pendant or earrings than a ring that gets banged around a bit.
These earring pairs are amazing to me. With a stone that can look so very different from one to the next, whoever paired these off did a terrific job!
I picked up quite a bit of Picasso Stone from the Tucson Gem and Mineral Show this year. I'm trying to take pictures of everything I bought there, so I can get "Before and After" pictures of anything I make with my purchases. I brought along a sketchbook to help me remember ideas I had when I saw certain stones.  That only helps a little, to tell the truth. There are always far more ideas in my head than I sketch out.
I love the way this stone looks with copper, so I have plans to use some of these with some heat-patinated copper elements. Fun with the torch!
Some of these pendants are begging for a simple wire wrap. They're gorgeous on both sides of the pendants, unlike a cabochon, so they can be worn with either side out. Wire wrap can accommodate that.look like desert Southwest landscapes in miniatures you can hold in your hand.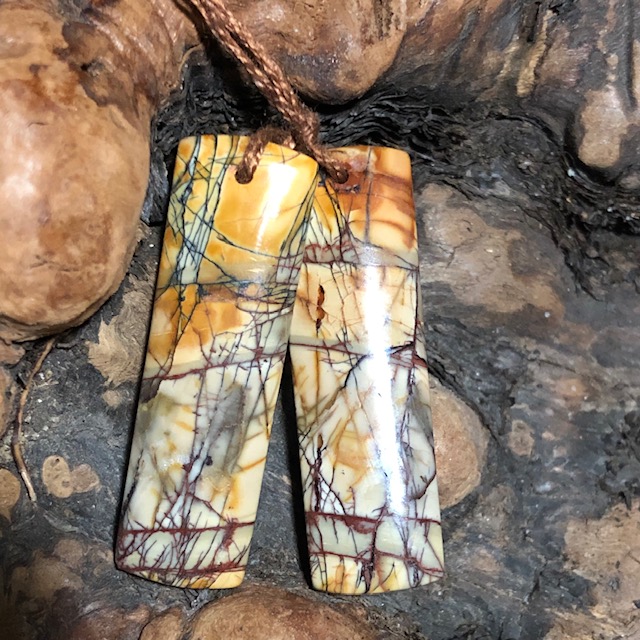 Picasso Stone is said to bring peace and encouragement to someone feeling depressed, and is also supposed to increase creativity. (The creativity part really works for me, because these cool patterns just give me so many ideas!) 
It is also said to have the metaphysical property of aiding digestion and the circulatory system. 
Please feel free to share any ideas you have for using the stones pictured!  I'd love to have your input. I'm excited to get to work tomorrow on some new jewelry pieces.
Copyright Kelley Adams 2019, All rights reserved. Photos are property of the author, but may be shared on Pinterest without written permission.