Description
"Amethyst Budding," $480.00
26″ tall x 17″ wide x 10″ deep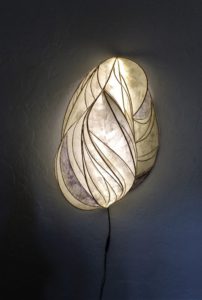 "Amethyst Budding" is an illuminated sculpture for the wall, 26″ high x 17″ wide x 10″ deep.  The translucent sculpture is created from paper, glue, and reed. There are accents on this piece made from bonded fibers of amethyst colored wool and Angelina. The LED strip lights shine softly through the purple fibers and the papier mache when it is lit, bringing out the contrasting lines of the reed structure. When unlit, "Amethyst Budding" is a soft white sculpture, deeply textured, with amethyst colored accents.
Free shipping within the continental United States is included in the price. Customers interested who are from Alaska, Hawaii, and outside the US, please contact me directly at Kelley@homegrownartworks.com so we can work out shipping costs for your needs. If local pickup can be arranged, please contact me and I will provide a discount on the price.
Please allow up to two weeks for me to process your order before shipping. I often have to create a box for mailing these odd-sized sculptures. I also add a couple of layers of polyurethane to the surface of the lamp, to protect it from humidity, transporting from dry Colorado to more humid areas.