Description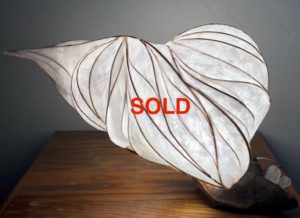 "Westerly," $450.00
21″ long x 15″ wide x 15″ high
This illuminated sculpture was made with a desert driftwood base, probably from a cottonwood tree. This remarkable piece of wood was shaped by the elements over many years of exposure, creating a unique shape and patina. Quartz crystals have been added, to catch the light and to add a cleansing aura to the piece.
The translucent shell was created with a basketry reed skeleton and covered with many layers of papier-mâché, then finished with multiple layers of polyurethane matte finish to protect it from dust and humidity.
The bulb is an LED, which stays cool, and it should last for a very long time before it needs replacing. When you do replace it, be sure to use an LED (NOT incandescent) bulb.
To clean, use a vacuum and a dusting cloth, or canned air. Although there is a finish on the surface to help keep the paper safe, it is not waterproof and must not get wet. Please keep it indoors only.
Free shipping within the continental United States. Customers interested who are from Alaska, Hawaii, and outside the US, please contact me directly at Kelley@homegrownartworks.com so we can work out shipping costs for your needs.